Recent Wedding Trends
I wanted to discuss a few wedding trends, some recent and some that started a year or so ago.
One trend that started probably over a year ago: Mix & Match Bridesmaids' Dresses. Sometimes people go as far as having the bridesmaid dresses all different colors and styles. I love the whole mix & match trend but I like it when they use the same color and have all different styles of dresses or all different styles of dresses with the same color but different shades of that color. Lauren Conrad recently got married. She let her bridesmaids each choose from two colors and their dresses were different as well.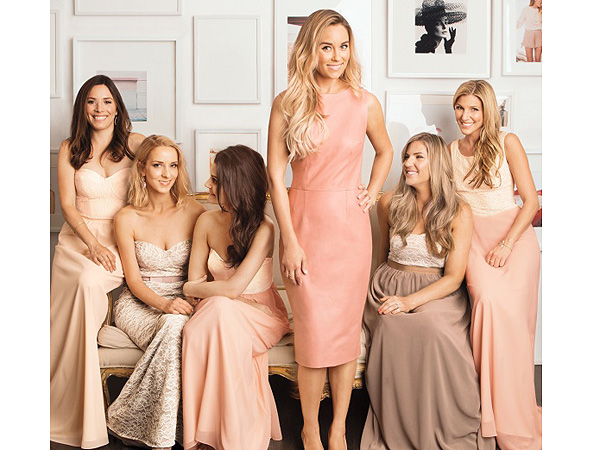 Image via www.peoplestylewatch.com
While there are two different colors (nudes and pale pinks), the color palates are somewhat similar and neutralish. With the colors being soft and down to earth and the lengths of the dresses being about the same or almost all the same, they go together quit beautifully. It reminds me of blending different color eye shadows when doing your make-up. I wonder if she would be into being my wedding planner for whenever I get married, if I get married. She is just so put together and everything in her wedding and even her bridal shower was simply amazing.
Next trend I want to talk about: Wearing a Crop Top and Maxi Skirt instead of a Wedding Dress. If done right, this looks gorgeous. Ashley Simpson exhibited this trend recently at her and Evan Ross' wedding. Ashley nailed this trend! Now I know when people hear the word "crop top" they are going to think of something like Miley Cyrus or think it shows too much. But it doesn't have to be like that. Ashley wore a long sleeved ivory lace crop top with a beautiful matching maxi skirt. This type of maxi skirt is high waisted, so instead of baring your belly, only a smidgen of your midriff is exposed.
Image via www.eonline.com
(Dress on the Left) Image via http://www.kleinfeldbridal.com
I wish there were more pictures of Ashley Simpson's dress but these will do. I think she just looks stunning and it goes well with her bohemian theme. It is laid back yet romantic. And it is very different from her traditional wedding dress she wore when she married Pete Wentz. Oh how I wish they stayed together, but Ashley made the right decision in leaving him because of his drug abuse. I just wish they could have reconciled when he got clean. But hey, Evan Ross is very good looking too ;)
And for the final trend: Trashing the Dress. For those of you who do not what this trend is, trashing the dress is basically when you wear your wedding dress and then do something that ultimately ruins the dress, such as diving into the ocean or a pool or something and have a photographer professionally photograph it.
about a bride whose fiance died 52 days before they were supposed to say "I do." Eventually, when she was ready, she trashed the dress. She did so by jumping into a river. For this strong woman, it wasn't about following the trend. For her, trashing the dress symbolized her freeing herself from losing her fiance.
I'm not completely for "trashing the dress." I mean you spent all this money and it reminds you of the day that was hopefully one of the happiest days of your life. But to each its' own. However, I do think if you get a divorce or never made it down the aisle and had already purchased the dress, then this is a great way to let go of something and as Janine said, "free yourself."
What are your opinions on these trends?
-Heather