What the Fuck...Wednesday.
I am so freakin' tired. I probably should not have been on the road this morning but I had to go to work because I gotta make that money. My eyes and back hurt. I can barely even think right now. Luckily, I saved some articles and what not to start off my WTF Wednesday and then hopefully that will give my brain somewhat of an electrical spark to help me function.
By the way, I just opened one of my emails- I have multiple email addresses. I do not use all of them that much but I do use three of them pretty much daily. Anyways, so there was an email from Old Navy. I know that for the past few days or whatever they have been having up to 50% off, which apparently ends today but in the email I just received, they are also giving free 2-day shipping plus an extra 30% off (restrictions apply- of course) for today only. I am trying not to buy anything but at the same time, that is a really great deal.
So yea. I took a picture of myself this morning. I went straight into the bathroom and looked at my hair and thought it looked pretty good for me just waking up. It looked a lot wavier in person but of course, not every picture can capture what you see exactly. #Iwokeuplikethis #literally
Ok, so onto my What the Fuck Wednesday post... Heather, you need to get your shit together and focus on the purpose of this post instead of posting a picture of what you looked like when you woke up this morning. Woah that pep talk just gave me an idea. I kind of want to take a picture of myself every morning for at least a week straight- maybe a month- and see the differences and compare them. Wow I sound really weird. WTF Heather.
One more thing before I go on with WTF Wednesday. The last sentence of my horoscope reads, "Question everything you hear today- even if it comes from a seemingly reliable source." Ok, that kind of worries me... I question things A LOT and now my horoscope is telling me that I actually should question everything today. Oh Lord. I'll update you tomorrow if this was valid.
1. Vanderpump Rules
Has anyone watched the new season? I watched the first episode of this season this past weekend. Kristen Doute was being bashed by a lot of people, except for her boyfriend, about reaching out to a girl who was posting things on social media about hooking up with Tom Sandoval (Kristen's ex and Ariana Madix's current boyfriend). When asked why she even reached out to the girl, she admitted that she was just curious. I don't blame her at all, especially since Tom lied to Kristen about cheating on her with Ariana. Even though Kristen cheated on Tom too, it doesn't make what Tom did ok. I believe that Tom did cheat on Ariana just like Kristen thinks. Ariana and Tom claim they are openly honest about everything with each other. Ariana says that she doesn't believe the "rumor" and that she can tell when Tom is lying. My take on this is that even if you can tell when someone is lying, love can make you blind. It can make you ignore the signs of cheating and what not and you love the person so much, that you look past those signs whether you know it or not.
2. A woman is claiming that Monster energy drinks promote Satan
Oh my God people are nuts! She claims that the "M" in the Monster logo is made up of a "6" in Hebrew three times. I'm not even going to give this woman anymore of my energy. She is crazy. I love my Monster drinks though! I went through a period of time where I drank one a day but broke that habit after maybe a month or few months because I know that is extremely unhealthy. Plus I heard it can make you infertile- but there are a lot of claims about different drinks making you infertile. I just love the taste of them. I think I've had less than 10, maybe even less than 5 energy drinks this year. Proud of myself :) If you want to read the article, you can find it
here
.
3. A soldier's military working dog was stolen from him
Not only was this dog stolen, it was stolen by the military! Spc. Brent Grommet returned from Afghanistan with his military dog, Matty. Brent is one of the many soldiers that suffers from PTSD as well as, chronic breathing problems, migraines, and is in severe daily pain from a traumatic brain injury, spinal-cord injury, and hearing loss- all a result from him serving in Afghanistan. I know first hand how much a dog can really help you deal and cope with health problems and PTSD. Brent followed all of the procedures to adopt Matty, which he is allowed to do by law according to Robby's Law. The military took this man's dog when they were separated upon landing at the Air Force base. Separating them upon landing is standard procedure, however, the military never returned Matty and no one would give Brent answers. This is so wrong and sickening. This man put his life on the line to serve for our country and now suffers daily as a result. This hero followed all of the procedures to adopt Matty and has every right to adopt Matty. Something seriously needs to be done about this. You can read this heartbreaking article
here
.
4. Australian couple who abandoned their newborn daughter's mentally challenged twin will be allowed to keep the "normal" twin
When this whole story came out a while ago about this couple using a surrogate in Thailand and refusing to care for and bring back home the twin that was diagnosed with Down Syndrome, I was outraged. And then it came out that the Father is a convicted child sex offender- which is true. Well this couple has been cleared to raise the girl twin, Pipah. Apparently family members, neighbors, community members, and support agencies will be supervising/ monitoring Pipah's well being. While it is somewhat of a relief to hear that so many people will be involved in Pipah's well being, it is also concerning. I mean, thankfully there will be people other than agencies checking in on her because as we all know, agencies/ case workers do fail to make their regular check-ins and things happen but at the same time, even with other people monitoring her well being, things can be hidden. No one will really know what goes on in that house 24/7. I just hope that Pipah will be ok.
5. Internet rumor of Macaulay Culkin's death was a hoax
Apparently this isn't the first time rumors have gone around that he was dead and this isn't something surprising considering he is a celebrity. But I just think it is so wrong.
6. Former NFL Ravens' Cheerleader, also know as the oldest cheerleader in NFL history, accused of having sex with 15 year old boy
Molly Shattuck became a Ravens' Cheerleader at the age of 38. She has been accused of having sex with a 15 year old boy. According to court documents, her son introduced the two and gave the boy his mother's phone number. Was it really her son who did this? I don't know but this happened via the son's Instagram account. I really don't even know what to think of this- and I am starting to go brain dead/ getting brain fog. Besides the fact that an adult had sex with a minor is disturbing and wrong, she was a Ravens' Cheerleader which hits home for me because I grew up in Baltimore and the Ravens are my home team.
Here
is the story.
7. Man finds dead former owner's body inside the foreclosed home he purchased
What the fuck? I know that foreclosed homes usually don't get looked inside when the bank takes possession and puts the house on the market. I bought a foreclosure and that house- my house- had a lot of damage, but nothing that couldn't be fixed. Anyways, this poor woman died inside her home and no one claimed her or thought to look for her. If a bank takes possession of a house where the owner has not paid taxes for three years, wouldn't you think they would try to contact her? I mean I'm sure they did or left notices or whatever but wouldn't you think she had a vehicle in the driveway and a mailbox full of years/ months worth of mail or something?! This is so sad and I am sure has to be at least somewhat traumatic for the new owner. You can get more details
here
.
8. Kim Richards (from Real Housewives of Beverly Hills) might have to put down her Pit Bull, Kingsley
Kim Richards' Pit Bull bit her niece recently (her niece is 18 years old, not some clueless little girl) and has bit at least one of Kim's friends before. The media, as well as a former friend of Kim's, is trying to make this situation look way worse than it is all because Kingsley is a Pit Bull. While I don't think Kim ever gave Kingsley the correct socialization every breed of dog needs, etc., I don't blame Kim or Kingsley for these situations. All of the people who got bit by Kingsley were not severely injured. Kim's niece even posted a hospital picture of her smiling and acting completely fine. The people who Kingsley has bitten, were warned and aware that Kingsley bites. He became protective over Kim and her bedroom mainly after all of the kids moved out. So he was not used to having kids or many people around the house. It was just Kim and Kingsley. Besides the fact that these people were warned/ informed of Kingsley's behavior, Kingsley was secluded from EVERYONE by being put in Kim's bedroom while people visited the house. So Kim took the right precautions. These people were also told not to go into her bedroom and that Kingsley was in there. These people failed to listen. They are responsible for their own idiotic behavior. I could rant on this topic forever. Oh and the former friend who is suing Kim has been known to lie and sell stories, etc. about the entire Richards' family to make money off of them. You can read these articles
here
and
here
.
9. Woman arrested for possession and trafficking of crystal meth was found wearing a t-shirt that read "I heart CRYSTAL METH"
Seriously, what the fuck? Are you that stupid???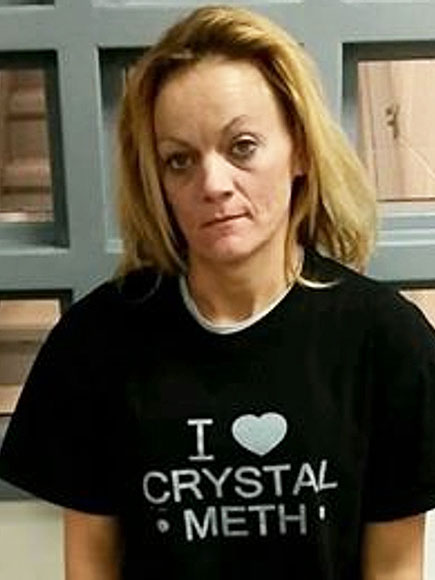 10. Dewitos
Whaaaaaat the fuck? They are making or made a Mountain Dew drink that tastes like Doritos. Sorry but to me, that doesn't sound appetizing...
11. Lorde's outfit at The Hunger Games: Mockingjay Part 1 premiere
I was looking on www.peoplestylewatch.com and came across this. Come on Lorde, what the fuck? If The Penguin (one of Batman's enemies) and Violet Beauregard (after she turns into a giant blueberry girl) had a daughter, this is what she would look like.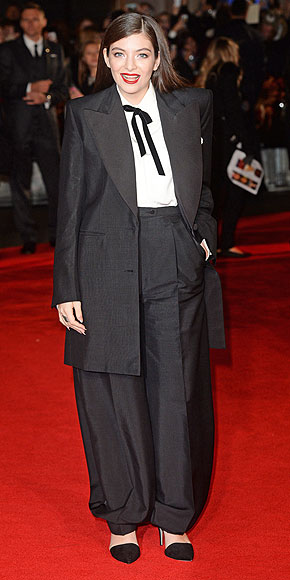 Alright I think that's enough What the Fucks for one morning.
Happy Hump Day.
-Heather