WTF Wednesday
Oh good Lord I am tired. It is dark and raining out. The roads are slippery. It is supposed to snow 5-8" today in the city I live in. WTF?! So I left work early. I was not trying to get stuck in the ice and snow and have to abandon my car on the side of the road. I started this post this morning and I am safely at home with my three furr babies snuggled up on the couch with me snoring.
Shall we move onto What the Fuck Wednesday? I think so.
1. Family presents transgender woman as a man at funeral
This really outrages me. Jennifer Gable even legally changed her name to Jennifer Gable. Not only did her family present her as a man at her funeral, they cut her hair and put her in a suit. I'm pretty sure this is not what she would have wanted. She is being buried as someone she is not. Dressing your deceased child as a man and using her birth name when she identifies herself as a female and has legally changed her name is rude, disrespectful, and hurtful in my eyes. I'm assuming her family did not support her decision in identifying as a female and do not believe in transgenders. You can read the article
here
.
2. Former Miss Teen Oregon- World gets arrested for possession of meth and heroin
Big surprise. News like this in the pageant world seems to be increasingly common. After women have won a title, whether it is soon after or years after, they seem to get arrested. Now don't get me wrong, I am not bashing pageants whatsoever. I was in a pageant or two when I was like four- back in the day when pageants weren't as big, expensive, glitzy as they are now. I think pageants can be a good learning experience for young girls and women, develop stage presence, get used to answering questions (especially on the spot), getting used to being judged (because that happens everywhere out in the world) and speaking in front of a lot of people, working with organizations and charities, finding their talent or niche, working up to the bigger titles when they are older to try to get college scholarships and be role models, etc. Many outsiders forget all of those positive things about pageants. You can read more about Jamie Lynn France's recent arrest
here
.
3. Mother leaves her week-old baby in a roadside drain
What the fuck? Why are people doing this? And it isn't just young teen moms doing this stuff either. This Australian woman is 30 years old. She tried killing her son by abandoning him in a roadside drain. Thankfully passers-by heard his cries in time. He was in that drain for five days! And thankfully this baby is getting justice because his Mother is being charged and can face up to 25 years in prison. You do not have to abandon your babies! You can get help. Whether you go through adoption agencies, ask family members or friends or anyone for help to give up your baby, and some hospitals have that thing where you can just leave your baby at the hospital- the Safe Haven Law- with no questions asked or responsibility.
Here
is the article about this cruel woman.
4. Miley Cyrus steps out in another crazy outfit
Oh Miley... Miley Cyrus celebrated her 22nd birthday this past Saturday with her new boy toy, Patrick Schwarzzenegger. And she wore a crazy outfit. She looks like she got dressed when she was high off of Molly and it reminds me of a muppet; the colors remind me of laffy taffy and Willy Wonka; and the hair clips remind me of something Jennifer Garner wore on 13 Going on 30. The style of the dress also kind of reminds me of the infamous hooker dress Julia Roberts wore in Pretty Woman. Well, I hope you had fun Miley.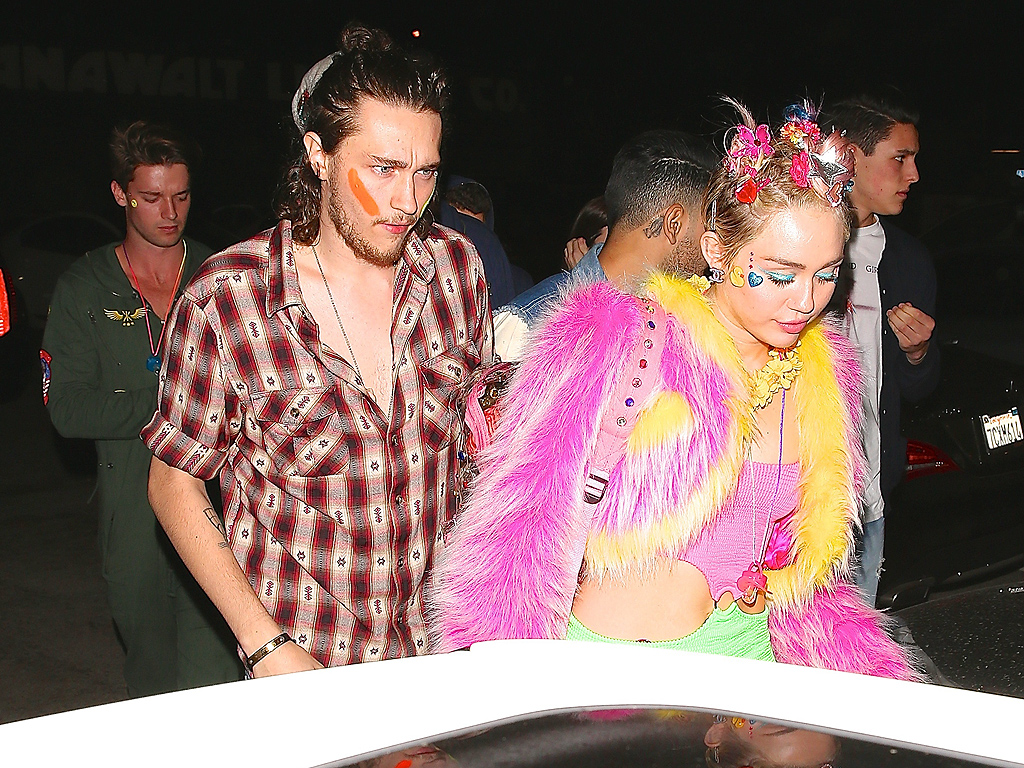 5. Cleveland Police Officer shoots boy holding fake gun
Let me start off my saying this is recent news that happened this past Saturday. Someone called 911 about a male that was pulling a gun in and out of his pants near a playground. The caller also said it was probably a fake gun but they weren't sure. So I can understand this caller's concern and taking precautions by notifying law enforcement that there is someone with a gun and the gun might be fake but it might be real. Although the caller informed the 911 dispatch center that it could be a fake gun, the officers that responded to the call were not informed of this important piece of information. The 12 year old boy that had the gun was not carrying a real gun. He was carrying an airsoft gun. Airsoft guns usually have an orange tip to show they are not real guns, however, this boy did not have the orange tip on his gun. Thus, no one would be able to tell from looking at the gun from a distance that it was fake. The boy was told by police to raise his hands but when the boy reached for the gun in his waistband instead, he was fatally shot by police. The fact that the officers weren't informed about the possibility of the gun being fake, the gun not having the orange safety indicator, the boy failed to follow instructions, and he reached for a gun, proves there was no malicious intent by the police officer. Ok, this is getting a little long so let's get to the end. Everything was caught on video and the officer was cleared- as he should be but a lot of people disagree with my opinion. This was an unfortunate situation. You can read the full article
here
.
6. A wedding dress that weighs 380-Pounds
Whaaaaaaaat? Wedding dresses are usually heavy enough. How could someone walk in this? Luckily this mastermind dressmaker made this dress as an art piece rather than for commercial use. Gail Be is the dressmaker from Edina, Minnesota who made this gown she calls Fantasy. This dress took her three years to make! And that was even with the help of 22 seamstresses! It probably would have took her 10 years to make that on her own. Would you wear this dress?
-Heather