The Weekend and The Grammys
Ugh this weekend and today has just been ugh. I mean, "Happy" Monday everyone! So this weekend was uneventful. Sexy Steve and I ended up not hanging out because we both felt like crap on Saturday. I felt shaky and my body felt very weak starting Saturday- like extra weak and still does. I feel like someone has completely beat my body and I don't know how to explain it but it's not like this is the first time my body has felt like that. Besides feeling like crap and visiting my mom and her furrbabies, I got an estimate on how much it will be to fix my car so that it can pass emissions. I prepared for the worst, so the amount wasn't bad compared to what I had prepared myself for but still, it is a lot of mullah. So Tuesday it is getting fixed. Oh and because I felt so crappy, I didn't make it to Petsmart for the pound puppy toys :(. Maybe I will this Saturday.
Anyways... the Grammys. Anyone who knows me, knows that I do not watch award shows. If I do, it is very rare. I usually just end up surfing the internet the next day to see what everyone wore, who got awards, the highs and lows of the awards show- but mainly to see what everyone wore.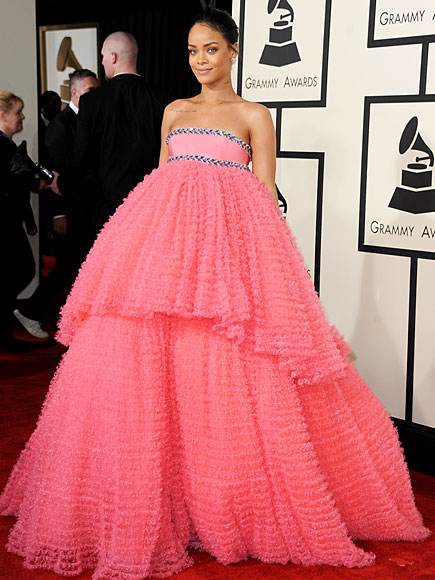 I love this dress and it on Rihanna. Since the Chris Brown incident, her fashion choices haven't necessarily been the best and they have certainly been "different"- which isn't always a bad thing. This color and style makes her skin glow and she just looks so happy and beautiful.
LOVE Kelly Osbourne's look. She looks so chic!
Beyonce looking amazing is no surprise. I am loving this black lace dress.
I read some opinions on Taylor Swift's outfit saying it was too "prom-like." I disagree. I love the style, love the color on her, and love the pop of different color on her shoes.
Oh Katherine McPhee. The top of this dress kind of looks like it was made out of scraps.
Charli XCX... sorry girl but you look like an easter bunny crossed with a poodle.


Nick Jonas, you have become so hot and sexy but this outfit is a fashion no. No one can concentrate on your face or hot bod with this suit on. I don't even see you. All I see is a whack suit that kind of makes me eyes hurt.
All of these pictures are courtesy of Yahoo! Style
What was your favorite look?
-Heather