Versatile Blogger Award
I got nominated for the Versatile Blogger Award! Yay!!! I actually have been secretly hoping someone would nominate me for this. So here's a big thanks to Inés at
Your style, your happiness
for nominating me!!!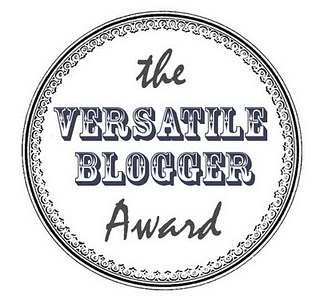 Versatility is very important to me and so it only makes sense for me to have a versatile blog. Whether it be a handbag, a pair of shoes, a computer, or even a dog product- versatility is the main thing I look for.
Alright, so lets start off with the
rules
...
-Thank the person who gave you this award and leave a link to their blog.
-Tell the person who nominated you 7 things about yourself.
-Select 15 blogs/ Bloggers that you've recently discovered or follow regularly.
-Nominate those 15 Bloggers for the Versatile Blogger Award.
I'm probably going to repeat things I've shared already, so sorry if I bore the people following who already know these things.
7 Things...
I'm a crazy dog mom of three (Gemma, Mowgli- whose name might be getting changed to Tigger, and Audrey) and proud of it!
Besides being near sighted, having a skin disorder called Keratosis Pilaris, and being low tone deficit, I have been diagnosed with depression, anxiety, bipolar, PTSD, ADD, chronic fatigue syndrome, and Fibromyalgia- I think that is everything lol. It doesn't necessarily mean that I have all of those, but that is what I have been diagnosed with. I currently have a new doctor who actually wants to find out what is wrong with me and come up with a treatment plan.
As of today, I have 7 tattoos. You can read about the meanings of the first 6 here: My Tattoos and the Reason I Got Each One. I'll probably do another one of those posts when I'm on tattoo #10.
Besides dogs, my favorite animals are hippos.
My favorite color is probably black. I just think it is gorgeous and VERSATILE lol. Black can be casual, dressy, sexy, modest, classic, simple, romantic, punk, edgy, etc.
I used to hate my name. I think I started liking it when I was like 17, maybe a little earlier or maybe a little later. Now I love my name. Oh and I love looking up the meanings of names. Ooh I should definitely do a post on the meanings of names.
I read my horoscope almost everyday, if not everyday (unless I'm going through a phase where I'll stop doing that for a little while) and usually read it on Yahoo! and a horoscope app on my phone. I just like to read it and see if either of them makes sense or relates to what is going on in my life. But I don't consult with my horoscope on what to do or what not to do- unless I am considering going on a shopping spree and it says not to spend money b/c then my horoscope is making me save money, which is good.
Nominees...
Bear Den Plantation
The Her Issue
-Heather