It's a... and Baby Name Reveal!
GIRL

!!!!!!!!!!!!!!!!!!!!!!!!!!!!!!!!!!!!!!!!!!!!!
Yes, you read that right!!! Girl, girl, girl!!! I'm having a little girl!!!!!!!!! Can you tell how excited I am?! And the test results for Down Syndrome and Trisomy, 21, 18, and 13 all came back normal and super low!!! Now we just have to get the Spina Bifida test done in a few weeks.
Oh my God y'all don't know how happy this all makes me! For the past week and a half or so I finally had the definite gut feeling that I was having a little girl and my gut was right! And most of the old wives' tales were right! Holy shit, I'm having a little mini me! You better watch out world because my daughter is coming December 2016 and if she is anything like her momma, then she is going to be a whole lot of trouble and attitude.
Jesse is going to have his hands full! Speaking of Jesse... he made me wait the entire day before I could announce the gender of our baby and her name! I found out the gender around 9:30 a.m. yesterday. He wanted to be the first to know the gender (besides me, duh) but he wanted to be told in person and he wouldn't settle for face time. My mom, sister, and step sister were dying to know and I was dying to tell! But I respected his wishes. When I told him, he didn't have much of a reaction because he already "knew" it was a girl.
Now lets get to this little girl's name shall we? Drum roll please...
Rory Brielle McAward
! It is just so beautiful. This name (first and last) came to me randomly one day while I was driving (before I was even pregnant). I thought it was the most perfect beautiful name ever and when I told Jesse, he loved it too. We agreed that if we ever had kids and ever had a girl, Rory Brielle would be her name. And for those of you out in this world, because there are some already, Rory is pronounced Roar-ree (but this should be no trouble at all for you Gilmore Girls fans out there). Anyways, back to my excitement and to our daughter's name.
Jesse loves Irish names (hence the reason Gary's middle name is an Irish name, Padraig) since he is Irish and I just so happen to be Irish too. So it felt like the name "Rory" was even more meant to be when I found out it is an Irish name! Rory means red or red king.
Brielle on the other hand is French but I've also read that it is Hebrew. It means God is my strength or God is my might. Funny thing about the name "Brielle" is that it was originally Audrey's middle name! But I quickly changed Audrey's middle name to Georgina because she reminded me so much of my mom's English Bulldog, George, at the time and Georgina is or can be one of the female versions of George. But that's not why I picked "Brielle" for Rory'a middle name. Like I said, the full name came to me all at once one day.
Like a lot of other mommies to be out there who got the materniT21 plus test (or the panorama or harmony), even after I got the gender results, there was still doubt and worry in my mind. Like what if this is somehow wrong? What if I'm one of the 1% that the gender was incorrect? But in all reality, 1% is very very low for it to be wrong and an ultrasound only has a 98% accuracy rate. So it is more accurate than an ultrasound. I'm not going to rush out and shop too too much yet for girly stuff but I am going to be buying one of these bathing suits for little Rory today! I cannot get enough of the watermelon print!!!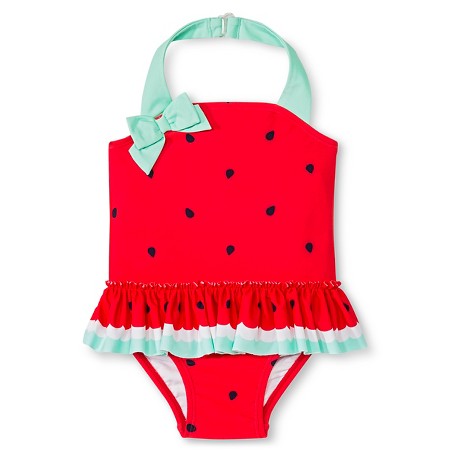 Ahhh I still just can't believe Jesse and I are having a little girl!!! I've already told Audrey that she is getting a little girl to play dress up with and have bulldog princess tea parties with. I really hope that Audrey's mothering protective instincts kick in with the baby just like they did with Gary (although Gary is a dog not a baby) when we first brought him home. I want Audrey and Rory to be joined at the hip and best friends for sure. Just imagine my little girl dressed up and having a tea party with Audrey in one of her tutus and pearls... too freakin' cute!
Alright well I am going to continue soaking in my excitement! Have a great weekend and safe 4th of July! And keep those fur babies inside and safe! I can't wait for my birthday on Sunday! Keep an eye out for my 14 week bumpdate!
-Heather